Hi, I'm Laura.
I'm a researcher & behavioral designer.
I am a multidisciplinary researcher at the crossroads of human-centered design and behavioral insights. For the past ten years, I have led various social impact projects and technology projects across multiple fields, for example: on education and early childhood development in conflict settings, equitable mobility for diverse communities in urban spaces, digital financial services for people living below the poverty line, or open source tools to empower young adult to leverage the web. With Mozilla, the International Rescue Committee (IRC), Humans Who Play, OLPC, and many partners from the public and private sectors, I have worked across five continents, in 13 countries, with diverse audiences, including the most vulnerable. I have conducted many ethnographic and rigorous research projects worldwide, and my research work has been published in media outlets such as BBC News, Le Monde, the Washington Post, and Quartz. Most recently, my education project with Rohingya refugee children was recognized as a world-changing idea in education, inspiring better and more equitable learning by Fast Company. I hold a Bachelor's and a Master's in International Business from Paris School of Business and a Master's of Science, Behavioral Science, with distinction, from the London School of Economics.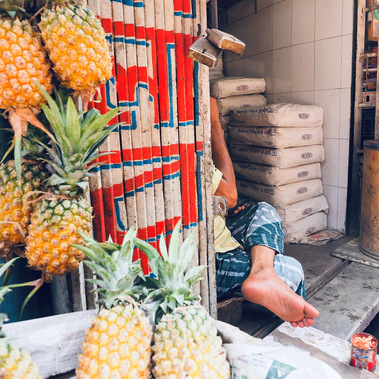 Skills
Working with people from all walks of life, including the most vulnerable, allowed me to develop deep empathy as well as strategic and innovative thinking. I use various research methods, from human-centered design to equity-centered design and behavioral science, to formulate sharp insights and launch award-winning projects at scale.
Services
Human-Centered & Equity-Centered Design

Behavioral intervention design
Ethnographic research
Prototyping products and services

Rigorous evaluations
Landscape analysis


Literature review

Partnerships
Cross cultural collaboration
Current work includes; designing and evaluating innovative education program in public schools in Kenya, leveraging behavioral science to fight anthropogenic climate change and supporting organisations with multidisciplinary research methods.

Recent work
Director of Research and Design - Humans Who Play (2020-)
Design Innovation Lead - Airbel Impact Lab at the International Rescue Committee (2017-2020)
Research Lead - Mozilla Foundation (2014-2016)
Also: One Laptop Per Child (2009-2012), Microsoft France (2012-2013)
Education

Master of Science, Behavioral Science / with distinctions - London School of Economics (2022)
Master of International Business - PSB, Boston University
Bachelor of Business - PSB, Regent's College